Date of travel: 11 Aug 2012 - 14 Aug 2012
So, I am finally finished with my university education! To mark the start of our freedom (or end, since we'd all be coming out to the working world, however you want to look at it) my friends and I decided to plan a short getaway to a nearby Asian country (due to limited resources). Half of my friends whom I'm travelling with wants to go to Bangkok, and the other half wants to go to Krabi. So, we decided on BOTH!
Click
here
to access my itinerary for Bangkok & Krabi! As you know, I did not strictly follow my itinerary, and I just did what we all throught was suitable and convenient, and that's how travel should be! Flexible and convenient! You should do something similar like this to have a rough idea or guide on what are the places you want to visit on which day and try to visit all the attractions at the same place.
I'll blog about Bangkok first!
DAY 1
Indra Regent Hotel Bangkok
Hotel's lobby and reception
Address: 120/126Rajaprarop Road,
Bangkok, Thailand10400
Tel: +6622080022
Website: http://www.indrahotel.com/
I choose this hotel because it's just 6 mins walking distance away from major shopping malls like Platinum Fashion Mall, Central World, etc. The hotel is also just 5-8 mins walk away from the Airport Link Rail Station - Ratchapharop. The location is very very convenient!
The six of us made a mistake by sharing a cab to head into the city. First of, it was rather expensive about 700 bhat (120 bhat per person) for a SUV which can squeeze 6 persons. No doubt it's more convenient as we had luggages and such, and the taxi will alight us directly at the hotel's main entrance; but by taking the train, we could have saved about 80 bhat per person, and also save time as we were caught in Bangkok's infamous traffic jam for about 30-45 mins. I'll admit after conversion to Singapore Dollars it's not much, but I was rather irritated with the time wasting when we were caught in the traffic jam.
I booked the rooms through www.hotels.com and the rates on the website then was relatively lower as compared to the hotel's own websites and other intermediary websites. Besides, when I was making the booking, hotels.com was having a sale about 40% off!
Besides, the hotel totally exceeded my expectations! I expected a poorly lit hotel, old building and really just the basics as we just needed a place to sleep in and shower. With the 3.5 average star rating and the price we were paying for the rooms, we were pleasantly surprised by how nice and cozy the hotel's lobby is and how friendly and helpful the staff were.
Kae Kai Hair & Nail Salon
Such beautiful nail art!
Address: 10/8 Sukhumvit Soi 39, Bangkok, Thailand 10110
Map for Kae Kai
Tel:
+66 81912 1380
Facebook:
https://www.facebook.com/pages/KaeKai-Hair-Nail-Salon/130307867044346
Price: 520 bhat for Manicure and
Pedicure
with nail art
So, after checking in, we wanted to do our nails. We took a taxi to Soi 39 as the nearest BTS is rather far away. Here, whatever you want to do for your nails, it's possible. It costs us 520 bhat (SG$20.80) for both
Manicure
and Pedicure with nail art. The two ladies who were drawing our nails were incredibly
talented
!
I believe this salon is popular among Japanese Expats living in Bangkok. I came here about 3 years ago and it wasn't filled with Japanese until my latest visit. You have to walk down the Soi (Street) past Coca and it's just opposite, a little further up. Open the main door and let them know that you'll want manicure and pedicure. They'll then lead you through the salon and upstairs where the services is rendered.
MK Gold Restaurant
All the food we ate at MK Restaurant!
Address: Central World Mall
Website: http://www.mkrestaurant.com/index.php
Price:
1,800-2,400 bhat for 6 person (300-400 bhat per person)
After getting our nails done, we taxi-ed over to Central World where we met up with the boys for dinner. Our cab ride took us about 30-45 mins thanks to the traffic jam, but cost us about 100+ bhat.
Anyhoo, we went to MK Gold Restaurant for dinner! MK Restaurant serves Thai Chinese Steamboat style kind of food. It's affordable and it's scrumptious! We ordered a plate of mixed meat which consisted of Roasted Duck,
shio bah (Roasted Pork)
and
char siew (BBQ pork)
, a plate of mushrooms, a plate of vegetables, a small plate of various meats like chicken and pork, and another plate of various steamboat dishes like fish ball and the likes. My favorite is still the plate of mixed meat! SO YUMMY!.
If you head to the regular MK Restaurants all around Bangkok and have dinner there, you gotta time your dinner perfectly because at 6pm, the staff of MK will dance to their cool MK theme song! I managed to catch this when I went to Bangkok in 2010.
Cream & Fudge
Address:
Central World Mall
Tel:
+66 2 688 7360
Facebook:
https://www.facebook.com/TheCreamandFudgeFactoryThailand
Website:
http://www.creamandfudge.com
We wanted to indulge in something sweet, and when we walked out of MK Gold after dinner, this cozy little place just beckons us! Who could resist ice cream and sprinkles! It has the similar concept as Cold Stone Creamery and Island Creamery in Singapore, and this is no different. They take your choice of ice cream, smack it onto a slab of frosty stone and 'massage' the toppings of your choice into the ice cream, and serve it in a cone, cone bowl, or a cup, whatever your choice.
Calypso Cabaret
Men, women, ladyboys....
Current Location:
Asia Hotel Bangkok, 296 Phayathai Rd., Bangkok 10400
(Till 25th Aug 2012)
New Location:
Asiatique The Riverfront, 2194 Charoenkrung Rd., Praya Krai, Bangkok Laem, Bangkok 10120
(Starting 1st Sep 2012)
Map for Asia Hotel
Tel:
+66 2653 3960
Website:
http://www.calypsocabaret.com/main.html
Nearest BTS:
Ratchathewi
Show times:
2015h and 2145h
Special Price (as of 22nd Aug 2012):
Adult - 900bhat; Child - 600bhat
Normal Price:
Adult - 1,200bhat; Child - 600bhat
Wanted to watch some
Thai Girl
Show (or for some people, knows as
Tiger
Show or
Ping Pong
Show), but we weren't brave enough to go look for one. Heard many stories about how you have to pay cheap cover charge and it is still compulsory to purchase a drink which will cost US$50! To have an idea, type Ping Pong Show Phuket or Bangkok into YouTube and you can get a glimpse of it.
We settled on Calypso Cabaret Bangkok instead where it's a legit cabaret without girls using their privates to open your beer bottles, shoot darts or play ping pong.
Be sure to make reservations in advance either via their website, travel agent or telephone. I would suggest you purchase your tickets directly on the cabaret website as it frees you the hassle of trying to overcome the language barrier. And when I said, be sure to make advance reservations, YOU SHOULD make advance reservations at least 2-3 days in advance. I was lucky and managed to book mine about 36 hours beforehand online. My group of 6 were given a table right in front of the stage and we could see the magnificent show clearly.
Every ticket comes with a free drink and you can choose from non-alcoholic like coffee, tea, coke, sprite or get something stronger like a Gin-and-Tonic or a beer!
DAY 2
Chatuchak Weekend Market
Opens:
Saturdays and Sundays, 09:00 - 18:00,
Fridays 18:00 - 24:00
Nearest BTS:
Mo Chit
Nearest MRT:
Chatuchak Park
I asked the Front Office Manager on directions to the nearest BTS and following his directions, I found myself at the Airport Rail Link Station thinking it was the BTS station. After consulting with the EXTREMELY FRIENDLY and NICE security guard stationed at Ratchapharop Airport Rail Link Station, he advised us to just take the train down one station to Phaya Thai Station where we can change to the BTS headed for Mo Chit.
Interestingly, the token used for travel on the Airport Rail Link is just this tiny chip.
Anyhoo, we took the BTS to Mo Chit and according to
this website
, we '
took Exit 1 and followed the crowd till we reached the rows of canvas stalls
'. Whatever you can't find in Bangkok, you'll most likely find it in Chatuchak. Seriously, this market sells everything from fashion wear to plants to pets to even furniture!
One thing to be warned about visiting Chatuchak is that you must remember to wear something comfortable, light and airy. The weather there is SCORCHING HOT, it's HUMID and CROWDED. If possible, wear comfortable shoes and be prepared to squeeze with the locals and tourists a like. There are about 8,000 stalls and you can spend an entire day there just sifting through what the market has to offer. Also, try to get a map of Chatuchak and do a bit of research before heading there because I felt like my friends and I walked in circles and kept looking at the same old stuff we did 30 mins ago.
Just the 'few' visitors crowding at the road side stalls before entering Chatuchak.
& I am not kidding when I said there's going to be A LOT of people.
Chatuchak also has stalls and stalls selling food. We settled on a small '
restaurant',
if you will call it that, and had lunch! I seriously love Thai food! Though most of the dishes were fried and
heaty
, it was really good! Especially the fried chicken leg and mango salad!
Health Land Spa & Massage
Health Land Brochure
Website:
http://www.healthlandspa.com/home.html
Price:
Traditional Thai Massage (2hrs) - 450 bhat, Foot Reflexology (1hr) - 250 bhat
After hours of non-stop shopping, we wanted to get a massage to soothe our tired bodies and just relax. We went to Health Land Spa and Massage at Asoke. I highly recommend this place because the massages they provide are really good and it's priced really reasonably! 2 hours of nonstop massaging your aching legs, back, shoulders and even your head! It is seriously good quality massages.
Do note that it's highly popular among locals and tourists alike, so do remember to make a reservation in advance if possible.
Again, my friends and I made a mistake by not making a reservation and because it was a Sunday when we visited, it was really packed. We had to wait for an hour for our massage. Health Land has a big waiting room with couches and sofas for all their guests to relax and wait for their turn. They also provide iced water for the waiting guests.
Once they called my name and the number of pax who will be receiving what type massages, we were ushered into another area where it's rather dim and we changed out of our footwear into the slippers provided. For Thai massage, it's a dry massage without any use of oil, thus we were given robes (a loose fitting shirt and pants rather) and we had to change into it. There's also a television in every room, but I fell asleep after 15 mins and just enjoyed the massage.
I can't decide if the television is for the guest or for the massage therapist.
Cabbages and Condoms
Namecard for Cabbages and Condoms
Address:
8 Sukumvit Soi 12, Bangkok, Thailand 10110
Tel:
+66 2229 4610
Website:
http://www.cabbagesandcondoms.com/index.php
Nearest BTS:
Asoke
Opens:
1100 - 2300
My friend recommended this restaurant to me as it portrays a totally different and unique setting. As the name suggests, there are condoms EVERYWHERE. Not only their mascot is a condom, they dressed their maniquine up in condoms, pictures of condoms, condoms as table designs, you name it! They even provide free condoms together with the bill!
Condom man?
Close up of condom man.
Banner hanging right outside the restaurant.
And mooooore condoms!
Cabbages and Condoms (or more commonly knows as C&C) was conceptualized by the Population and Community Development Association (PDA) to promote better understanding and acceptance of family planning and to generate revenue to support various development activities conducted by the association.
I must say, I am Asian and I come from a rather conservative culture. Though Singapore has rapidly grown and developed and we're not so 'backwards' anymore, we're still Asian. I must say I was a tad shy when I saw all those condoms everywhere.
But that aside, the food was good! The price was reasonably ranged as well.
EAT ALL THE FOOD!
Just to name a few, we had:
Mieng Khum which is a Thai appetizer. It consists of lemon, dried shrimp, peanut, ginger, deep fried coconut, chili, shallots and a special sauce, all wrapped in betel leaves.
Tom Yum Goong - which is spicy Tom Yum soup with shrimps.
Phad Thai Goong Sod - Stir fried Thai noodles with shrimps, all wrapped in an egg omelette.
Kai Hor Bai Teoy - Chicken in herb leaf bikini - Deep-fried chicken wrapped in pandan leaf.
Morning Glory Vegetables - Kang Kong stir fried in oyster sauce and garlic.
Table filled with food! NOMS!
Day 3
Platinum Shopping Mall
If you've been to Singapore (or are Singaporean), it's similar to something on the upper levels of Bugis Street/Village. Just more organized. Like there's a level dedicated solely to shoes, another to bags, and another to leathers. I managed to buy quite a few formal clothing for my future use when I start working.
Some of the stores Platinum has to offer.
A tip about Platinum Mall is that usually if you buy 3 pieces or more, you'll get a certain amount of discount. And if you buy 5 pieces or more, you'll get more discount, and it continues.
MBK
Again, if you've been to Singapore and have visited Far East Plaza or Lucky Plaza, the concept is about the same. It doesn't entirely look modern nor contain quality fashion shops.
There's a section selling furniture, another sells electronic gadgets, and another providing massages.
While waiting for my friends to be done, I went to get a foot massage myself and it's gooooood! It's always good to get a massage after hours of shopping.
Hua Seng Hong Shark's Fin
Address:
371-373 Yaowaraj Road, Bangkok, Thailand
Map for Hua Seng Hong
Tel:
+66 222 0635/ +66 2227053
Website:
http://www.huasenghong.co.th/
Name card of Hua Seng Hong Restaurant & Signboard
My friend wanted to head to Chinatown for Shark's fin. 3 of us refused to eat shark's fin and were rather reluctant to go at first, while the other 3 of them wanted to consume shark's fin. :(
Anyhoo! The restaurant served Fish Maw Soup as well, so the 3 of us, who were anti-shark's fin, finally relented.
We ordered Fish Maw Soup in Claypot, Shark's Fin Soup in Claypot, Roasted Chicken/Duck, Fried Rice, Hong Kong Noodles with Seafood, Stir Fried Morning Glory
(Kang Kong)
with Oyster Sauce, Chili Squid and Deep fried Prawns Salad with vege and fruits.
Yummy food!
Day 4
Kaiton Pratunam (Ko-Ang)
Front of Kaiton Pratunam
Address:
Petchburi Soi 30, Bangkok
Tel:
+66 2252 6325
Opens:
5.30am - 2.30pm, 5pm - 3am
Name card
So on the last day in Bangkok, we were looking for something hearty to eat for breakfast before we checked out and head on to Krabi. This Chinese style Chicken Rice Shop is located just opposite Platinum Shopping Mall, next to a fly over.
Chicken Rice with chicken blood!
We ordered half a chicken for 3 persons, 2 plates of rice and a bowl of chicken soup. If you've had Singapore's Hainanese Chicken Rice, this is somewhat similar. A regular plate of chicken rice costs about 30 bhat and the service is rather prompt.
The rice is not as oily and drier as compared with Singapore's version and they service some chicken parts in the soup as well. I must say the soup is rather tasty, unlike Singapore's. They serve chicken innards as well, if you fancy such things. The chili that they provide is a MUST TRY! Sadly, I forgot to snap a picture of the bowl of chili sauce, and grabbed this online.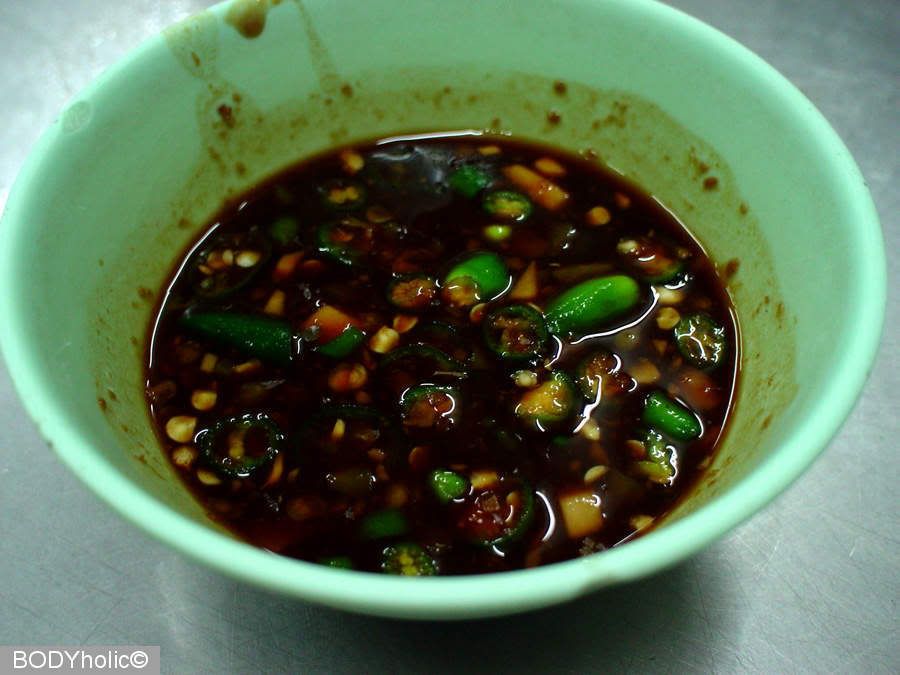 Chicken Rice Chili
The service staff speaks very little, if not, no English at all. They do have an English menu which you can play the finger pointing game with. From what I reckon, this shop is rather popular with throngs of people coming in early to buy takeaway packets.
END
Sadly to say, this is the end of my blog post about Bangkok. I will continue my adventure with my friends in Krabi in another post, so do keep a look out for it!
Overall, I find that getting around Bangkok is affordable and convenient with all the BTS, MRT, Tut tuts and taxis. Street food are generally ok for consumption, but do take a look around at the street food stalls to see how they prepare and keep the food, before you sit down and dine.
No matter where you go, you must always do research on your destination first! ALWAYS!